Library News
16.02.2017
El Croquis: online version available
The Library has licenced the online version of the prestigious Spanish architecture Journal "El Croquis", starting with Issue 104 (2001) of the bimonthly journal.
Access is available on the TU campus for 5 simultaneous users.
---
05.01.2017
New agreements to support open access publishing
From 2017, the University Library has greatly expanded its support for open access publishing at TU Wien, negotiating deals with a number of prestigious publishing houses that now offer open access options to TU Wien affiliated corresponding authors. The article processing charges for open access papers published in these publishers' journals will be covered by the University Library.
The University Library has concluded open access agreements with the following publishers:
BioMed Central
Electrochemical Society (ECS Plus) *New in 2017*
Emerald *New from 2017-2019*
IEEE Open
Institute of Physics (IOP) *New from 2017-2019*
Royal Society of Chemistry (RSC) *New from 2017-2018*
SCOAP3 *Extended until 2019*
Springer Compact
Springer Open
Taylor & Francis *New from 2017-2019*
More information on the workflow and requirements can be found on our website http://www.ub.tuwien.ac.at/eng/openaccess
---
14.11.2016
"Journal for Facility Management": a new Open Access launch at TU Wien
The university library is pleased to announce that we now host a new open access journal at reposiTUm, the "Journal for Facility Management" (IFM journal).
About the journal: Since 2008, the Institute for Real Estate and Facility Management has been publishing biannual issues of the "Journal for Facility Management". Starting in November 2016, the journal, including its archive, is now freely available online.
The internationally oriented IFM journal focusses on the connection between theory and practice of facility managment. The most outstanding papers are presented at the annual International Facility Management Congress.
University Library publication service: Since 2015, the university library of the TU Wien provides a platform hosting open access journals, reposiTUm. Other journals that have taken up this service are "The Public Sector", "Geowissenschaftliche Mitteilungen" and "Recent notes on labor science and organization".
Copyright: The articles of "IFM journal" are licensed under the Creative Commons Attribution Non-Commercial 2.0, which means that you can use, reproduce or display the publication as long as you credit the author and do not use the material for commercial purposes.
> Visit the website of the "Journal for Facility Management".
---
03.11.2016
Sunday opening hours: trial until February 26, 2017
To meet repeated requests for longer opening hours, the library main building is open on Sundays from 10.00 to 17.00 on a trial basis starting November 6 until February 26, 2017.
Feedback is welcome and we would be pleased to receive your comments, suggestions or complaints via info@ub.tuwien.ac.at or Facebook https://de-de.facebook.com/tu.wien.bibliothek/
---
27.10.2016
The green road to Open Access
Did you know that a lot of journals allow you to re-publish your article in an institutional repository as part of the "secondary publications rights"? Check out the SHERPA/RoMEO statistics and look at your author's agreement in order to find out if you are allowed to upload your article to a repository.
What does "secondary publication rights" mean and who can profit?
This allows you to make your article which previously was published in a subscription based journal open access via a repository. There may be restrictions in terms of embargo periods or the version of the article that can be used. You can find the needed information on the publisher's website, journal website, your author's agreement or the platform SHERPA/RoMEO.
Do you have a published article which you would like to make open access using this so called "green road"? Our institutional repository reposiTUm is the perfect place for that. You can upload the allowed article version right after publication, reposiTUm can process embargo periods.
An information as part of the
---
26.10.2016
ORCID: Open Researcher and Contributer Identifier
Open Researcher and Contributor ID (ORCID) identifies you as a unique part of the research community and helps you in maintaining your publication list.
ORCID can be used as a central place to keep your bibliographic records up-to-date. As a researcher getting and using an ORCID is free of costs.
Watch this short video to learn more about the functionalities of ORCID:
https://www.youtube.com/watch?v=a1Rijk_TMHA
To register you only need to enter your name and e-mail address. You decide how much information you want to include about yourself and how open you want to be about it (public information – only for registered users visible – only you can see it). You can import your earlier records from platforms like Scopus, Google Scholar or ResearcherID.
Since January 1st of 2016, the Austrian Science Fund (FWF) mandates ORCID for all new applications. A lot of publishers already offer the opportunity to link to your ORCID when submitting a paper.
Take action and register for your ORCID iD in a matter of seconds: http://orcid.org/
An information as part of the
---
24.10.2016
How to get an article record into OpenAire? reposiTUm!
OpenAIRE ("Open Access Infrastructure for Research in Europe") aims to support the open access policies implemented for projects funded by the European Research Council and the European Commission. It acts as an aggregator by collecting metadata from repositories, publishing companies and other research information systems. By providing the data, reposiTUm helps you to comply with your funder's requirements.
Various country-specific details about research are gathered by OpenAIRE as well. You can look up the information about Austria here.
ReposiTUm is OpenAIRE-compliant. If you upload documents to the institutional repository your bibliographic record will be sent to OpenAIRE in a matter of days. Supplying OpenAire with bibliographic information helps rising the visibility of this research output.
An information as part of the
---
09.09.2016
MethodsNow and PatentPak: trial access until 7.10.2016
The University Library has arranged a trial access to two new SciFinder modules, MethodsNowTM and PatentPakTM, for all TU staff and students until October 7, 2016.
Please send your feedback until October 10, 2016 to chemistry databases contact person Prof. Michael Schnürch.
If you do not have a SciFinder account, please fill in this form. Please note that this registration form will only accept e-mail addresses from tuwien.ac.at domain (including all subdomains). Once you have completed your registration, you can log in to SciFinder Web database.
Information on MethodsNow and PatentPak from CAS:
MethodsNowTM is your single source to search and compare the latest published scientific methods. If you need to analyze any matrix for your compounds of interest or if you are developing new synthetic routes – MethodsNowTM will be of help.
To login in to MethodsNowTM Analysis, please go to www.MethodsNow.com. Use your SciFinder login ID and password to get access. Synthetic methods can be found in SciFinder. These methods are associated with reactions answer sets.
Training videos explaining MethodsNowTM features are available at:
http://www.cas.org/products/methodsnow/training
PatentPakTM is a robust new patent workflow solution that gives all users instant access to hard-to-find-chemistry in full-text patents directly in SciFinder.
Researchers with a SciFinder username (login ID) and password can immediately begin experiencing the time-saving benefits of PatentPak in SciFinder.
Remember only PatentPakTM offers all of the following:
Instant access to searchable full-text patents from major patent offices around the world
Patent family coverage in multiple languages
Substance location mapping
Secure and confidential patent research
Daily updates
A training video explaining PatentPakTM features can be viewed at
http://www.cas.org/products/scifinder/patentpak/index#how
---
28.08.2016
CatalogPlus Login via Single Sign-On from 31.08.2016
From 31.08.2016, CatalogPlus login is via Single Sign-On, using your TU account.
TU students and members of staff will already be familiar with this authentification portal and will no longer need to remember a library password.
Patrons who are not TU students or TU staff will use their old library account. Please note that in the TU login form, Non-TU library patrons need to klick link below the TU login form, starting "Externe Bibliotheksbenutzer"

> Information on your TU password
> Information on logging in to your library account
At the same time, the old Aleph online catalogue has been taken out of service.
If you were still using the old Aleph catalogue:
Please note that all functions of your library account are available on CatalogPlus, such as renewing loans, placing requests or viewing your loan history.
If you have never used CatalogPlus, we recommend signing up for one of our free training workshops:
> Workshops on using the library and the library catalogue
Our staff at the information desk (on the first floor of the main library) will also be glad to answer any questions you may have concerning CatalogPlus .
---
17.08.2016
Main Library: New study desks and study lounge
The reading room on the 5th floor of the Main Library now offers new study desks, comfortable armchairs and a study lounge for the use of our patrons.
At present there is no reservation system for the new study lounge.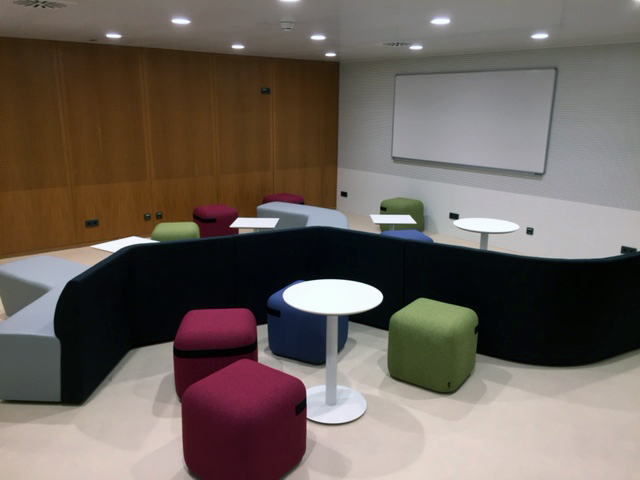 Study lounge on the 5th floor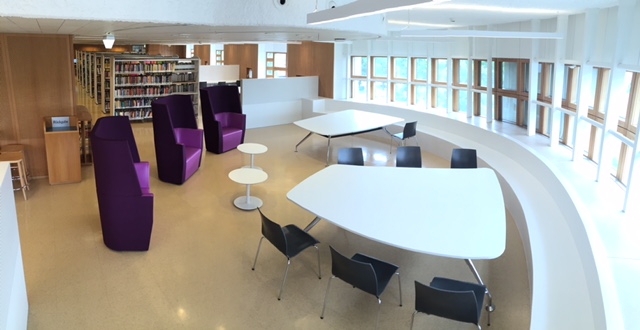 New study desks and armchairs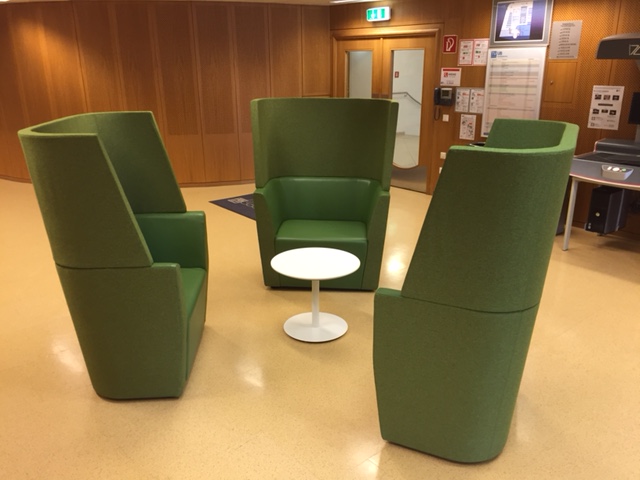 Armchairs next to the reading room entrance
---
01.07.2016
New Library Director
We welcome our new director of library services, Mag. Beate Guba MSc., who took up her post on 01 July 2016.
Beate Guba brings with her extensive experience, the last 8 years of it at TU Berlin directing the Economy and Management Library, and is looking forward to new challenges at TU Wien. Her special expertise is in strategic management, quality and process management, human resources management, organisational development, as well as electronic resources management and the teaching of information literacy.
---
16.10.2015
The Mathematics and Physics Library has moved
The books collection of the Mathematics and Physics Library has moved to the Main Libary (5th floor).
These books are shelved according to the MSC classification numbers.
The Mathematics collection of the main library has also been moved from the 3rd floor to the 5th floor, and in the long run both collections will be consolidated into one collection, shelved according to the TU classification.
Opening hours are those of the Main Library. Please return books borrowed from the Mathematics Library at the Main Library circulation desk.
In addition to the books, the 5th floor of the Main Library also offers study desks, four new group study rooms and a meeting zone with whiteboards (to be completed in the next months).
---
07.11.2014
Chemistry Library has moved
The Chemistry Library is now the Chemistry and Mechanical Engineering Library (CheMaB). It has moved from the Main Library Building to the Plus Energy Building, Getreidemarkt 9, BA 1.Floor.
Opening hours are Monday - Friday 9:00 - 19:30 (staffed opening hours: 9:00 - 16:00).
The Chemistry and Mechanical Engineering Library has two reading rooms with a total of 130 study desks, and a textbook collection on the second floor.
---

List all news >>